Halloween is on the door and its time to prepare yourself, your house and your garden to celebrate this amazing day. If you are planning on having visitors, guests or even trick and treaters, you should get your indoors and outdoors ready for them. There are a lot of wonderful Halloween decorations, in this post, we have compiled the best ones. Go ahead, check them out, they will definitely inspire you.
Halloween Treat Table
This is a nice way to decorate your living room for Halloween. It is both spooky and stylish. Besides, it is also functional. It contains treats to kids and drinks to grownups. If you want to have this one for Halloween, follow these instructions.
2. Glowing Halloween Candy Holder
This is one of the best Halloween decorations to receive your visitors. It is creepy and amusing. It will definitely create a spooky atmosphere in your place which is perfect for Halloween. For more information about this idea, go to The Creative Mom.
3. Rustic Farmhouse Outdoor Halloween Decorations
This is one of the simplest Halloween decorations. It will make your porch looks absolutely fabulous. This decoration is so beautiful that you can even keep it after Halloween. For this decoration, you will need cheap supplies such as:
Pumpkins
Flowers
jack-o'-lantern
Once you have all these supplies, go to Liz Marie Blog for instructions.
4. Fall-to-Halloween Porch Decor
One of the best ways to celebrate Halloween is by making your house looks alive. This is a very interesting decorative idea. Besides, it is also inexpensive. All you need are some faux creatures such as bats, crows, and an owl. For the tutorial, go to House of Hawthornes.
5. Monster Halloween Front Door Decor
This is one of the cutest DIY Halloween decorations. While all your neighbors are having spooky decoration, having a cute one will make your place stand out. Besides, it is fun and your kids will love to participate in this project. Visit Modern Day Moms for the tutorial.
6. DIY Trick or Treat Signs for Halloween Decorations
These are such lovely signs to welcome trick and treaters. Besides the signs, the white and orange pumpkins are beautiful and attractive. Visit Bless'er House to see more about this decorative idea for Halloween.
7. Countdown to Halloween Outdoor Decor
This idea is perfect for people who love Halloween and I can't wait to celebrate it. There are only 13 days left, start your countdown with this wonderful Sign. If you want to learn more about this lovely DIY idea, go to I Heart Naptime.
8. Simple Outdoor Halloween Decor
Simple decors are beautiful decors. They are well organized, can be understood easily and the look elegant. This simple Halloween decor, for example, is very beautiful and remarkable. All you need for this decor are pumpkins, lanterns, a sassy black cat and this tutorial at Driven by Decor.
9. Mummy Halloween Front Door Decor
Decorating your front door in this way for Halloween is a perfect way to attract kids. They will love your door and they will definitely come to knock on it asking for a treat. Besides, this Halloween decoration is extremely easy to. East Coast Creative will provide with all the information you need.
10. Scary Halloween Candy Holder
This is one of the loveliest and the spookiest Halloween decorations. This candle folder alongside these pumpkins creates an outstanding view that will make your visitors shudder. It is not creepy yet it is not very comfortable. Besides, it is not expensive. We strongly recommend that you try it.
11. Not Scary Outdoor Halloween Decorations
Celebrating hallowing does not mean decorating your place in a creepy way. In fact, there are some beautiful and attractive Halloween decorations. This decor, for example, is not scary at all yet it is perfect to celebrate Halloween. You will find more information about this DIY idea at The Happy Housie.
12. Outdoor Halloween Lanterns
These beautiful Halloween lanterns will make your outdoor looks not only beautiful but also warm and welcoming. They are a lovely Halloween decoration to welcome your guests. The tutorial for this DIY project is here. For more lantern decorative ideas, check out
this post
.
13. Galvanized Wash Tub Planters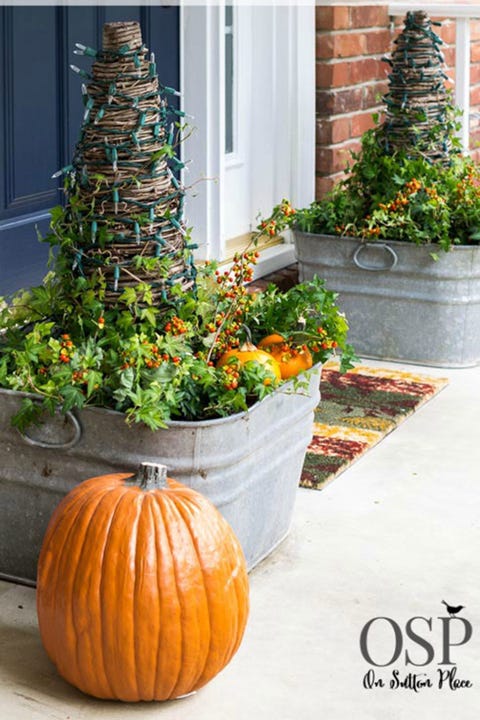 If you have old useless wash tubs you can transform them into planters for Halloween. You can also keep them after Halloween. They will always adorn your front door in a beautiful way. They will bring nature to your outdoor space and make it more alive. We found this idea at On Sutton Place.
14. Neutral Fall Porch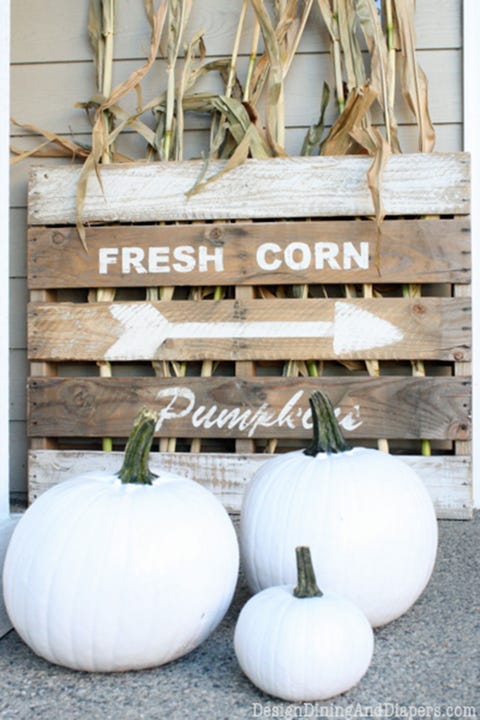 Since Halloween is in the fall, white pumpkins make an excellent choice for Halloween decorations. They look beautiful, elegant and they create a lovely atmosphere. If you don't want to spend much time working a Halloween decoration, this idea is an excellent choice. Find out more about it at Design, Dining, and Diapers.
15. Floating Witch Hat Luminaries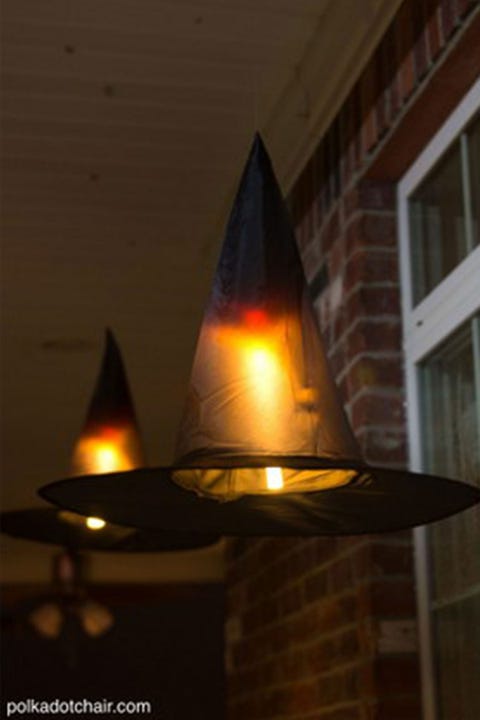 This is one of the best DIY Halloween decorations because it is functional, ornamental and spooky at the same time. These Floating hats will make your front door looks magical. It will also light it up at night. They are a perfect decoration for Halloween. Besides, making them is quite simple, Polkadot Chair will show you how.
16. Classic Country Halloween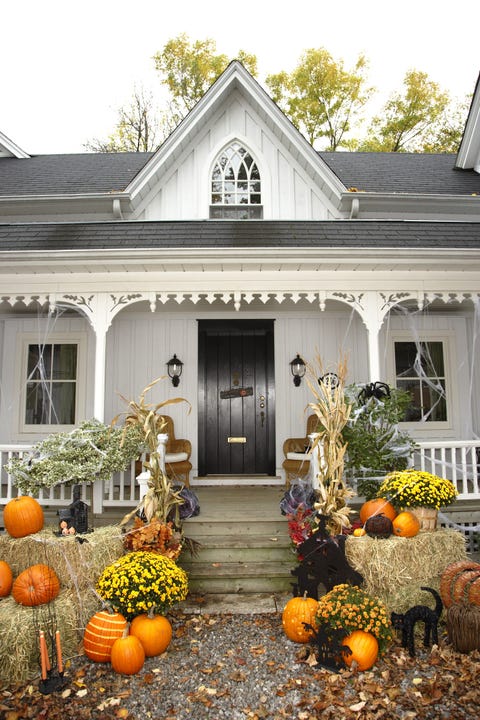 A Halloween vignette will look awesome on any porch. It is not scary but it has the Halloween spirit. Besides, it is extremely cheap. For this idea, you will need the following materials:
Hay Bales
Pumpkins
Dried corn stalks.
17. Jack-o'-Lanterns in a Jiffy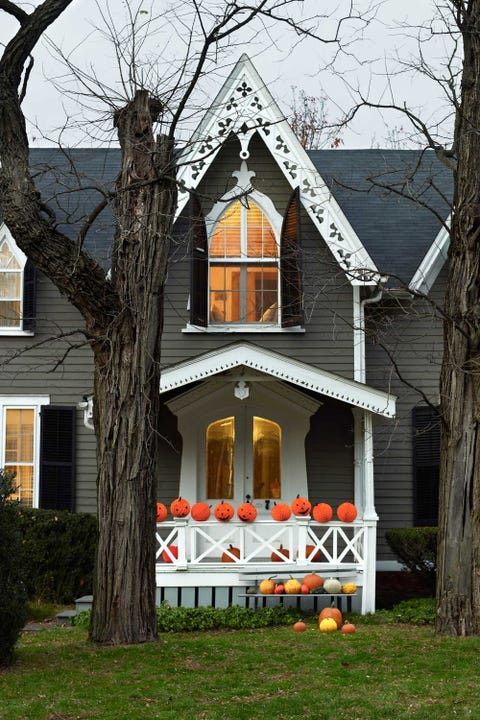 These pumpkins are not real. At first glance, it is hard to tell the difference. They are made of orange tissue-paper balls. This idea is excellent if you don't want to spend your money buying huge pumpkins. Orange tissue-paper balls are cheaper and they definitely look like real pumpkins.
18. Batty Front Door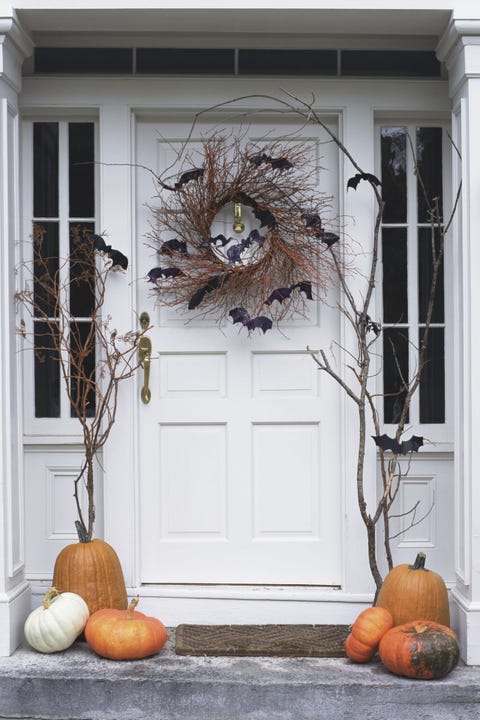 This adorable Halloween decoration, although it looks complicates, it is quite simple in fact. It is one of the most cost-effective Halloween decorations. All you need to do is to hang some felt bats on a natural wreath and place some pumpkins on your front door. Thus, you will have a friendly fright decoration.
19. Festive Front Door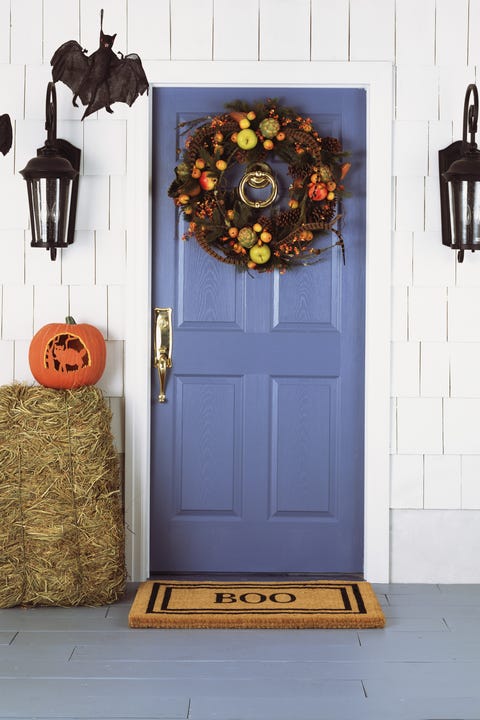 This is one of the most beautiful DIY Halloween decorations. halloween decorations are not supposed to look beautiful but rather scar, But, going off the grid and off the usual is ideal to make your place stand out. This decoration, for example, has the Halloween spirit and it will make your place looks fabulous.
20. Pretty in White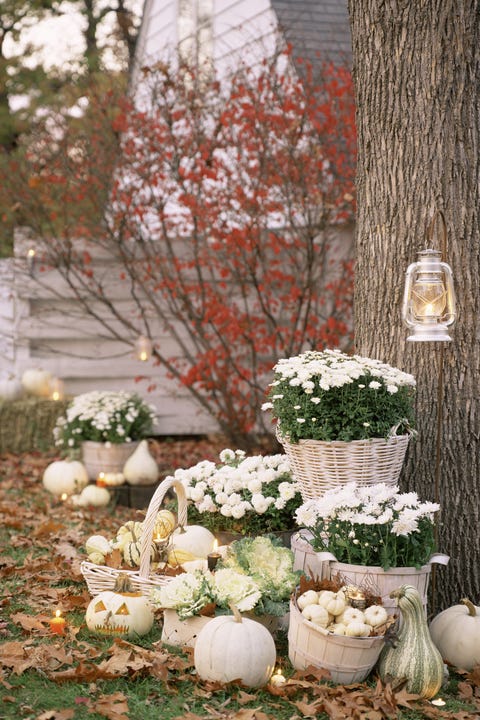 This is one of the most elegant Halloween decorations for gardens. This decoration is not restricted to Halloween, in fact, it can decorate your garden at any time in the year. It is an extremely attractive decoration that will brighten up your garden and make it extremely eye-grabbing. It is a bit spooky too. For this decoration, you will need the following:
white chrysanthemums
ornamental cabbage
cream-colored apple baskets
white pumpkins and gourds
lanterns and jack-o'-lanterns
21. Bat-Filled Front Door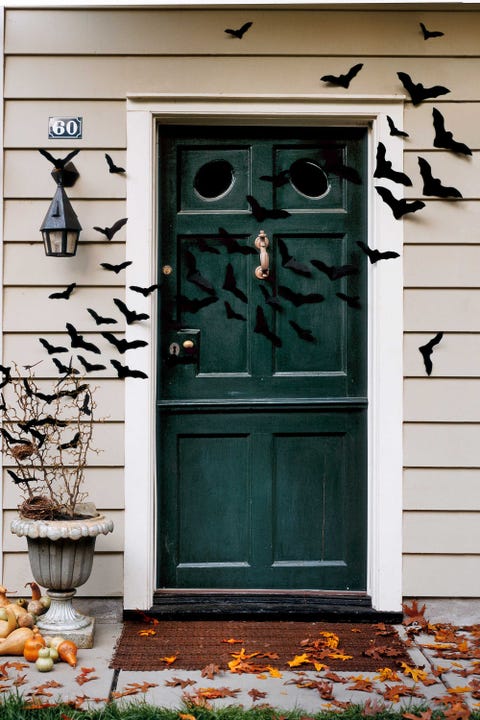 These felt bats are one of the easiest Halloween decorations. You can either create them by yourself or buy them from the store. Either way, they will add a spooky effect to your front door.
22. Pumpkin Planters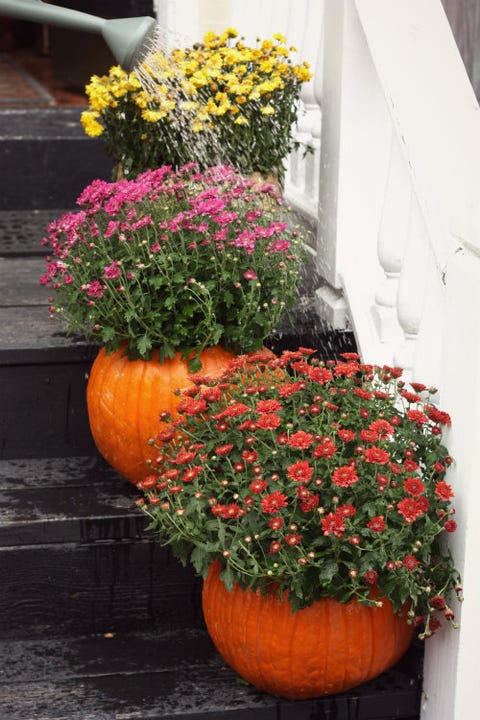 Pumpkin Planters are also ideal to decorate your place for Halloween. This idea is not quite common but it is always nice to go off the grid. Pumpkin planters are alluring and you can draw spooky images on them. Besides, you don't have to remove them after Halloween. They are very ornamental. If you want the tutorial for this DIY project, go to 17Apart.
23. Decorated Tree Branches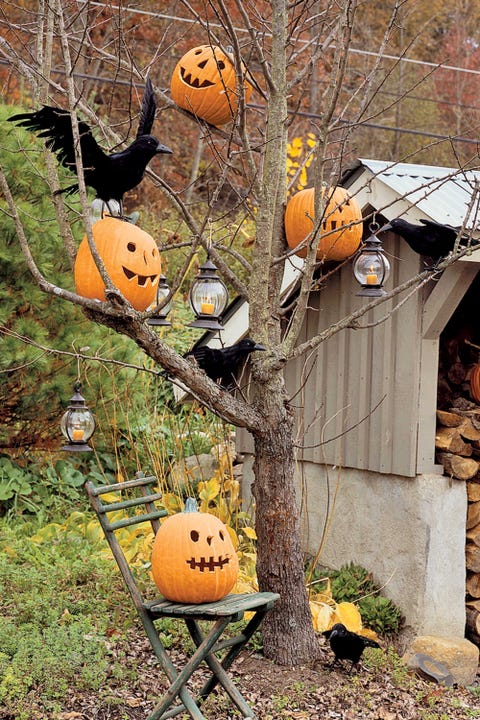 This decorative idea is perfect for Halloween. Hanging your Halloween decorations on a tree will make them more remarkable and more visible. Besides, they will make this tree look creepy and scary at night. This is a simple idea, all you need to do is to hang some lanterns, a few pumpkins and a faux black crow on one of your garden trees. Make sure to choose a strong tree with strong branches that can handle the weight of these items.
24. Spiderweb Doormat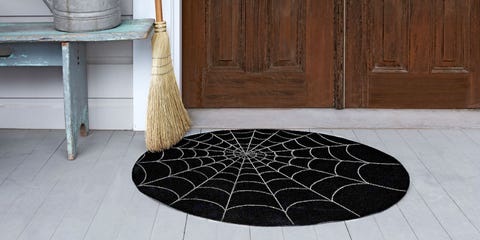 This spider web doormat is ideal to welcome your guests on Halloween. It is spooky yet it is beautiful and ornamental. Besides, you can make it yourself.
25. Bottle-Gourd Scarecrows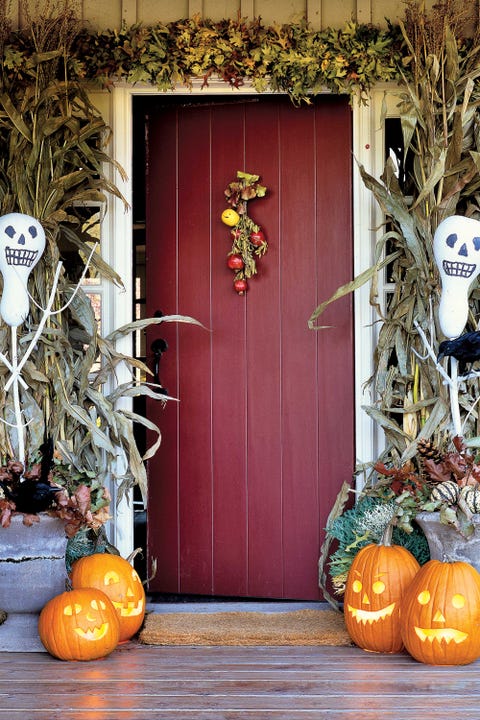 When it comes to Halloween, scarecrows are very popular decorations. What I like the most about this decoration is that it looks beautiful in the day and extremely scary at night. They will definitely terrify trick and treaters. Only the brave ones will come to your front door.
26. Spooky Skeleton Pumpkins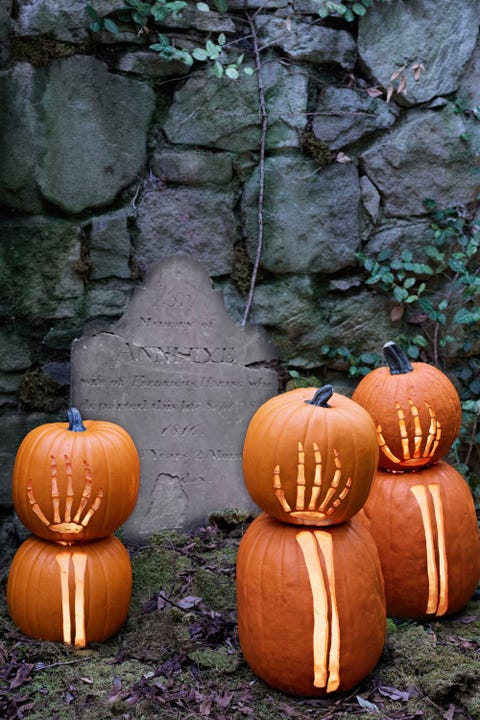 These are definitely scary skeleton pumpkins. You can place them in your garden or on your porch. They are inexpensive and they don't require much effort so getting rid of them after Halloween won't be a problem.
27. Glittering Decor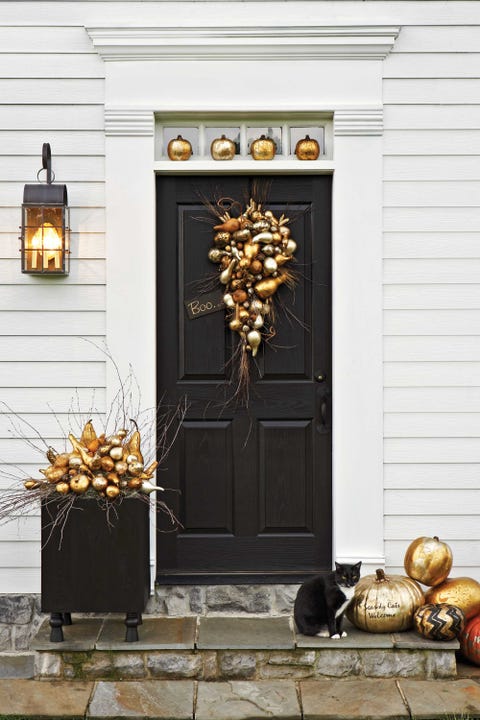 This is an extremely fancy DIY Halloween decor. Although it is not expensive, it requires time, effort and passion. However, it is totally worth it. It will make your front door extremely attractive and alluring. If you ever duplicated this decor, you should definitely keep even after Halloween. It will make your front door look extremely pleasant. The tutorial for this ornamental Halloween decor is here.
28. Pumpkin Greeting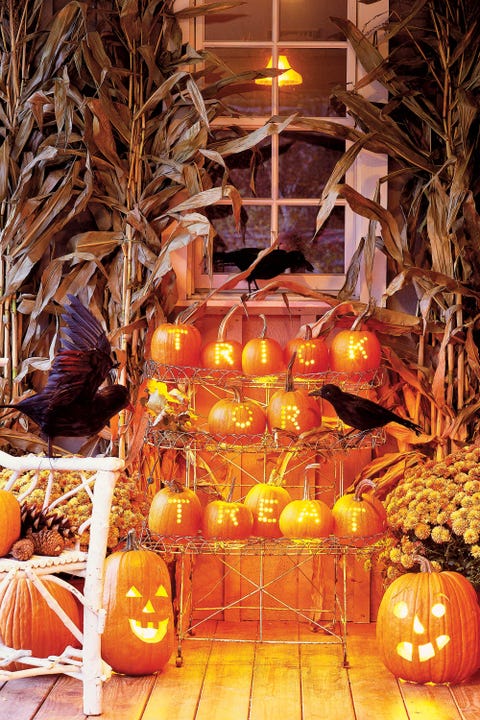 This is one of the most creative DIY Halloween decorations. It is not spooking but it is fun, entertaining and pleasant to look at it. The kids in your neighbor will definitely love it and will definitely come for your place for a treat.
29. Halloween Wonderland Set Up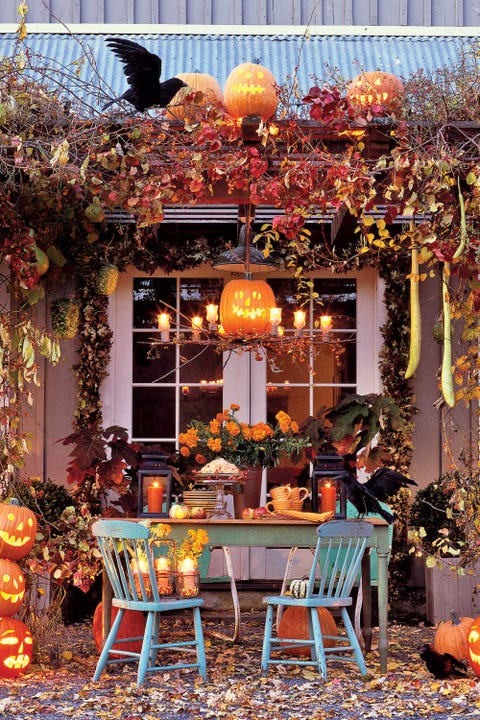 This is a fascinating Halloween decor. It is both spooky and beautiful. It is always very ornamental. It makes this entrance looks joyful and cheerful. Besides, it is budget friendly. All you need are some pumpkins, a few fall leaves, and faux ravens.
30. Cute But Spooky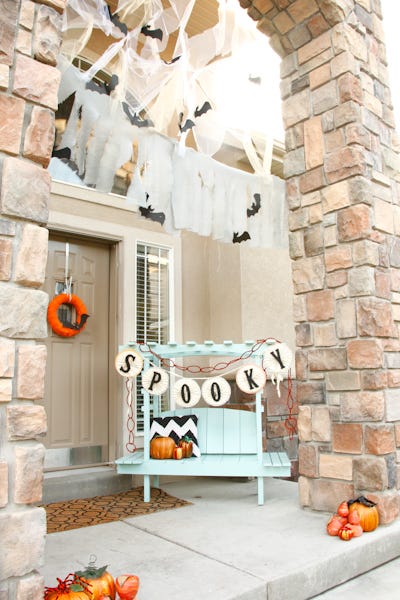 This is another cute Halloween decoration. This spooky decoration is not spooky at all. In fact, it is chic and entertaining. It is also very attractive. This decoration is suitable for porches and balconies. It will make them very appealing. You can find more information about it here.
31. Black-and-White Halloween Topiary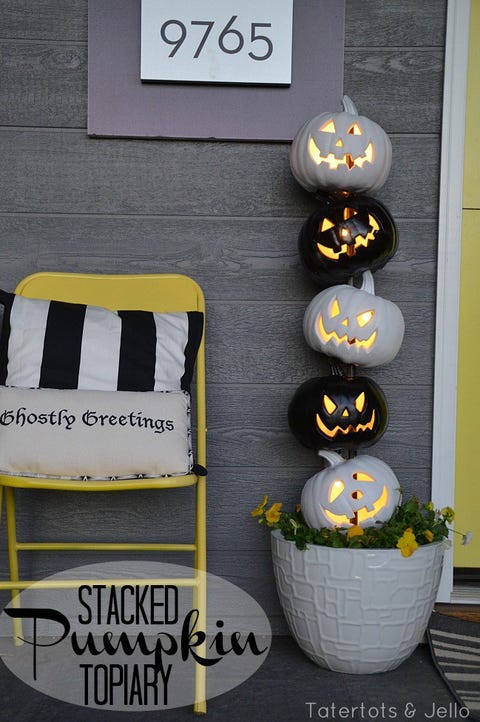 These are one of the most eye-grabbing Halloween decorations. These pumpkins look spooky yet attractive. They will adorn your front door in an exceptional way. They will make it appealing but at the same time repelling. You should definitely try to duplicate this decor. It is very easy. All the information you need about this lovely decor is here.
32. Pumpkins and Mums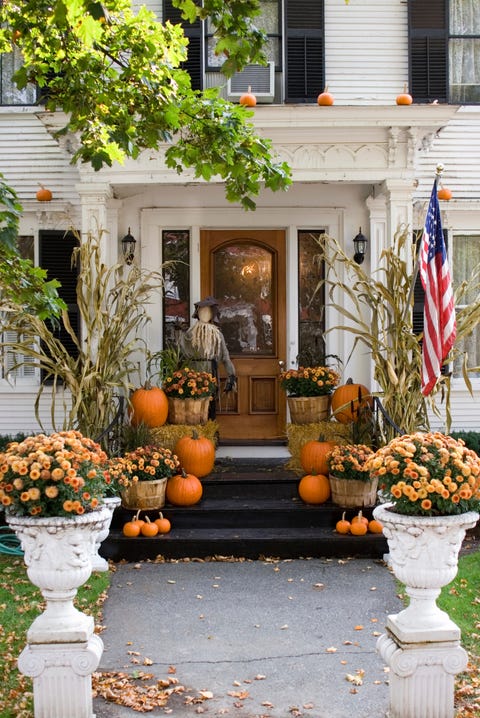 Pumpkins and mums make a beautiful decorative combination. They are suitable to use as a Halloween decoration. They can be spooky yet attractive and beautiful. The best part about this decor idea is that this decor can be kept after Halloween. This decor idea will make your front door looks attractive and chic.
33. Creepy Crawly Spider Facade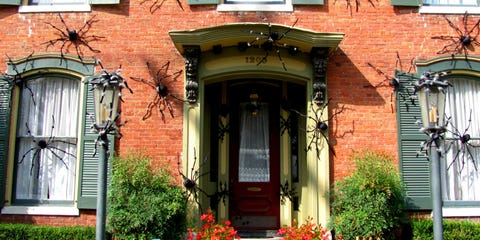 This is a simple decorative idea that does not require much effort. It is also very affordable. Buy some giant faux spiders from the store or online and decorate your place with them. They will definitely scare some kids.
34. Skeleton Greeter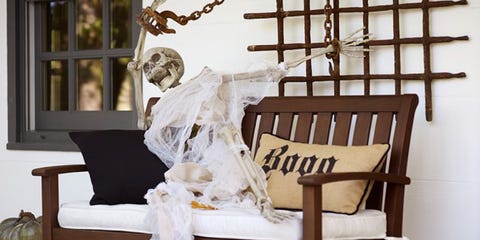 If you want trick and treaters to stay away from your front door onHalloweenn, you should consider getting this skeleton greeter. It will definitely terrify them. It is available at Amazon.com. It is not expensive, you can definitely afford it.
35. Giant Spiderweb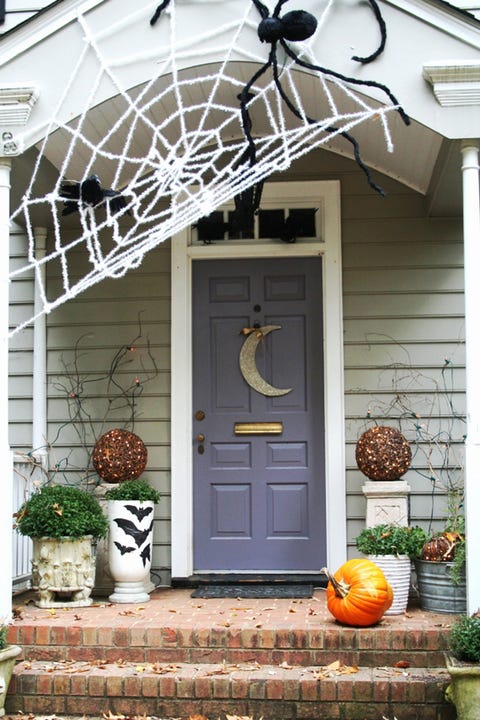 This giant spider web is not very spooky but it works well as a Halloween decoration. If you have good DIY skills, you can make it yourself, otherwise, it is available at Etsy for a fair price.
37. Wood Pumpkin Decor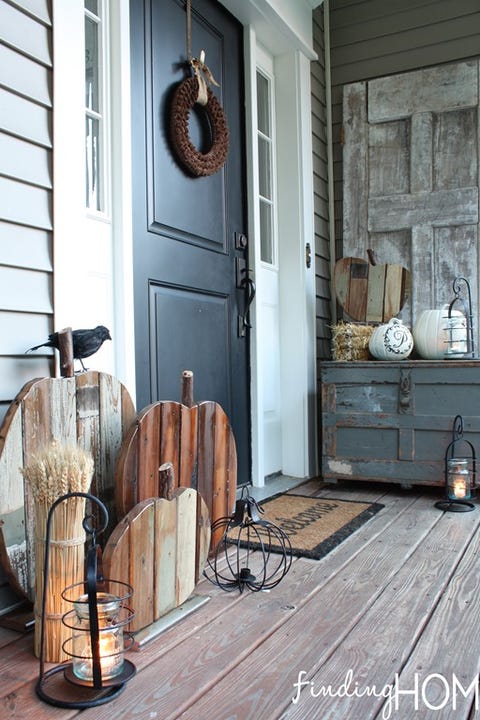 These wood pumpkins will give your front door a spooky vintage look. It will make your house looks like a witch house which is perfect for Halloween. Visit the Infarrantly Creative for more details about this idea.
38. Canning Ring Pumpkin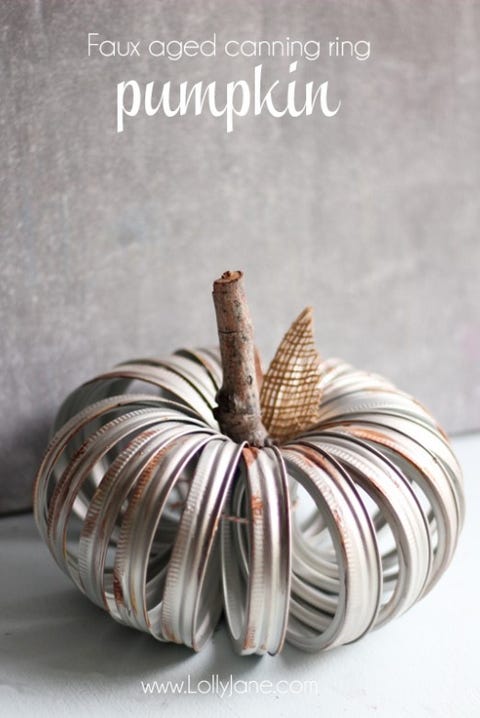 This canning ring pumpkin looks fabulous. It is very ornamental and you can make it in no time. Besides, you can use it for Halloween and keep it after it to decorate your garden or yard. You can also place it on the ground or hang it. If you want to learn how to make this fabulous decorative canning ring pumpkin, go to Lolly Jane.
39. Raven Porch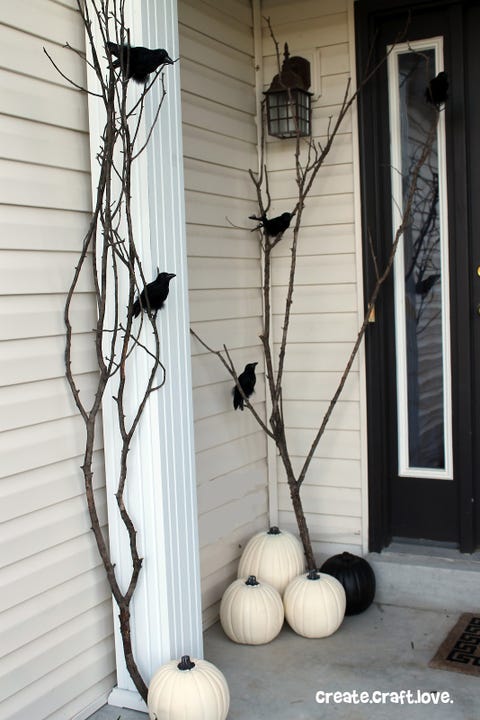 If you are looking for a scary yet a classy Halloween decoration, you found what you have been looking for. This decoration is creepy, spooky yet it is also beautiful and ornamental. Besides, those ravens look real. It is hard to tell they are fake at the first glance. The tutorial for this project is available at Create Craft Love.
40. Easy Front Porch Decorations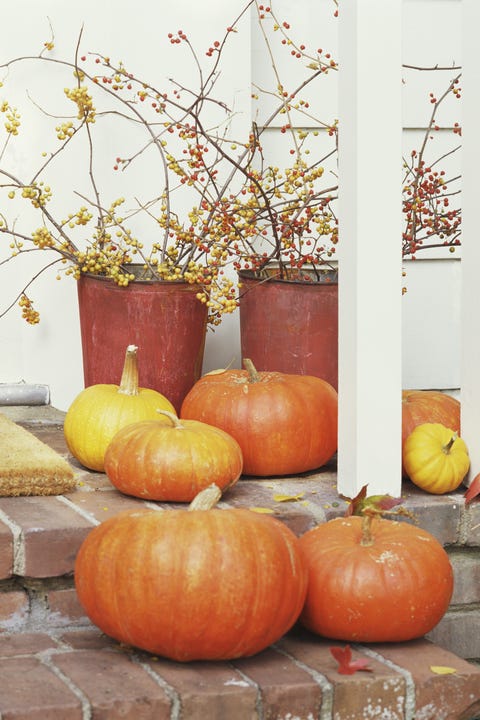 If you are too busy and you don't have much time to spend on decorating your house for Halloween, you can celebrate by placing some pumpkins on your front door.
These are the most Beautiful Halloween decorations for both indoors and outdoors. These decorations are beautiful, spooky, and affordable. If you want more inspirational Halloween decorations, check out this post.