If you think your garden is looking dull and boring and may need a new touch, you should definitely try one of the below DIY garden ideas. They are beautifully decorative and most of all easy to do. Besides, they are extremely inexpensive. Scroll down and check them out.
1. Hand Painted Stone
Hand-painted stones will ads colors to your garden and make it joyful whether it is summer or winter. This DIY project is quite simple and the materials you need are widely available. Here is the tutorial for it.
2. DIY Outdoor Chalkboard
If you have a backyard, you will definitely love this DIY project. This DIY garden idea is not only appealing but also useful. You can use the chalkboard to write notes on your garden so you won't forget them later. You can also use it to give your children a gardening lesson. This tutorial will show you how to make it.
3. DIY Crate Shelves
Instead of throwing your old wooden crates, transform them to these useful shelves. You can use these shelves to store your gardening tools or hang more plants.
4. Mirror Garland
This is one of the most aesthetic DIY garden ideas. This mirror garland will make your gardening absolutely attractive by making a light show. This is definitely when of the best ways to attract attention to your garden. For this project, you will need the following materials:
fishing supplies
small mirrors
adhesive
You can find more information about this project here.
5. Seashore Wind Chime
With some seashells, support, and thread, you can create this lovely seashore wind chime. It is absolutely attractive and you can use to decorate your indoors and outdoors. Find more about it here.
6. Colorful Birdbath
This is one of the most creative DIY garden ideas. This idea is decorative and humanitarian. These colorful plates will not only adorn your garden but will also serve as birdbaths. If you are interested, this post will provide you with more information.
7. Caterpillar Bowling Ball Art
This cute bowling ball bug would be a nice addition to any garden. It is small, it does not require much space and it is very attractive and cheerful. You can make as many as you want following these instructions at Birds and Blooms.
8. Hanging Flower Tins
This is one of the most useful DIY garden ideas. Creating a hanging garden in your garden is a nice way to decorate it and grow more plants. This idea is also quite simple. All you need are tin cans, spray paint, clothesline, hammer, nails, and drill. Once you have all these materials, follow this tutorial.
9. Spray Paint Pebbles With Glow-in-the-dark Paint
This is one of the most adorable DIY garden ideas. This idea will make your garden looks stunning at night. You should definitely try it. All it takes that you spray paint pebbles with glow-in-the-dark. They will give you an extremely pleasant view. You can use this idea to adorn your pathway, sideways, and backyard.
10. DIY Wash Tub Planter
Washtubs are perfect planters. They are sturdy, they can decorative and most of all they are functional. They warm up the soil which is healthy for your plants. Read more about this idea here.
11. DIY Tin Lanterns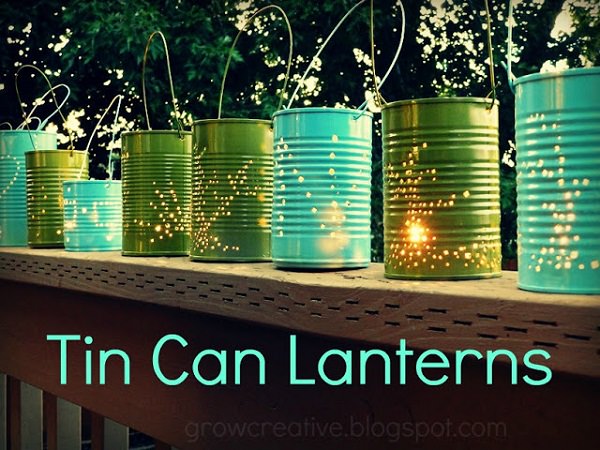 This is one of the most ornamental DIY garden ideas. These tin lanterns are an inexpensive decorative outdoor lighting system. They are also easy to make. Check out this tutorial at Grow Creative If you want to have them.
12. Plastic Bottle Garden Flowers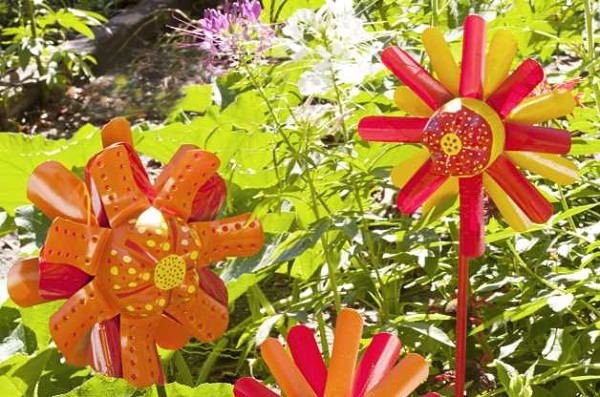 If you want a garden flower, you should definitely opt for this idea. It is cheap, creative and most of all extremely ornamental. More information about this project can be found here.
These are few of the DIY garden ideas. These ideas will adorn your garden in an entertaining and inexpensive way. Don't hesitate to try them.