Vegetable gardening is fun and beneficial especially if you are growing productive plants. There are a lot of edible plants that will give you a heavy yield. These plants are easy to grow and even if you are a beginner gardener, you will have a successful crop. They are the best plants for vegetable gardens. Scroll down and check them out.
1. Tomatoes
There are a lot of varieties of tomatoes. Most of them are heavy producers. However, the must-grow variety is beefsteak tomatoes. This variety is highly productive. It produces medium to large fruits. Its fruits widely used in sandwiches and salads.
This variety comes in different colors ranging between red, yellow and green. The most distinguishing feature of beefsteak tomatoes is that they are pest-resistant. Other recommended tomato varieties for a vegetable garden include Better Boy, Celebrity and Brandywine.
If you wish to grow tomatoes in a container vegetable garden, we advise you to read this article.
2. Small-Fruited Tomatoes
These small cutes tomatoes are one of the best plants for vegetable gardens. They have an exceptionally sweet flavor that makes them popular for making juices. Small-Fruited Tomatoes are available in two colors which are red and yellow. They are heavy producers, they will provide you with a heavy yield. They usually produce from midsummer to the frost. The most popular varieties of Small-Fruited Tomatoes are Yellow Pear, Super Sweet 100, and Juliet.
3. Sweet Peppers
Sweet Peppers are extremely popular. They are widely coveted by gardeners. There are many varieties of sweet pepper and each variety has its own unique shape and size. The most desired variety is Bell peppers. Bell peppers are productive and it is easy to grow them.
Bell peppers ripen in different colors including red, purple, orange, and yellow. They are very sweet and each variety contains different amounts of sugar. Although green Bell pepper is the most popular sweet pepper variety, other varieties such as California Wonder and Purple Beauty are highly recommended.
The sweetest varieties are Paler green and yellow elongated sweet pepper. However, they require a warm weather and a long growing season.
4. Hot Peppers
This is definitely a must-grow plant in a vegetable garden. Hot peppers are delicious and they are perfect for people who are into spicy food. Ripen hot peppers come in a variety of colors that include yellow, orange, purple, and even brown. The most popular varieties of hot peppers are Anaheims, anchos, jalapenos, cayenne, and habanero peppers.
Most gardeners relate the hotness of the pepper to its color. That is wrong. Color has nothing to do with the hotness of the pepper. However, it is an indication of ripeness. Hot peppers are very productive and they are easy to grow which make them one of the best plants for vegetable gardens.
5. Cucumbers
Cucumbers are popular mainly because they are one of the most productive plants. A few plants of cucumbers will produce enough to feed a whole family. That is what makes them one of the best plants for vegetable gardens. Cucumbers are sturdy plants and they are extremely easy to grow. They are highly recommended for beginner gardeners.
Cucumbers love heat. It is best to grow them in mid-spring or at the beginning of the summer. They are vine plants thus it is essential that you provide them with an adequate support. To learn more about growing cucumbers, you should read this article.
you can also read:
6. Snow Peas
These are the sweetest peas. Growing them in your garden will ensure you a constant supply of fresh delicious peas. This variety of peas requires a cool weather to grow and thrive. They are perfect to grow in the spring. These peas are better consumed fresh. If they are left in the refrigerator, they will lose about 40% of their sugar.
7. Mesclun Mix
Unfortunately, these adorable plants are not widely known. They are not grown in many gardens although they are very healthy, delicious and they make an extremely tasty salad. They are easy to grow and they can be grown in containers. If you have never grown them, you should definitely give them a shot. Their seeds are available in local nursery stores.
8. Spinach
Spinach does not need an introduction. It is one of the main ingredients of salads. Spinach is not only edible but it is also decorative. It adds an attractive green color to gardens. Spinach is usually planted in the summer and harvested in the fall. However, you can also start growing spinach in the fall as long as you are growing it indoors. For more information about growing spinach indoors, you should read this post.
9. Basil
Although basil is not a veggie, it made it to the list because it is a great plant. This herb is one of the healthiest and the easiest herbs to grow. It can be grown both indoors and outdoors. Basil can be added to different meals and dishes. It is a flavored addition to sauces, soups, and salads. It is one of the best ways to make your food spicy.
There are many varieties of basil and each variety has a unique flavor. You can grow different varieties to enjoy different tastes. You can grow basil in gardens and in containers. Either way, you will enjoy a heavy yield. If you wish to grow basil indoors, you should follow these steps.
Besides Basil, there are many productive and healthy herbs that you can grow indoors. They are listed in this collection.
10. Beans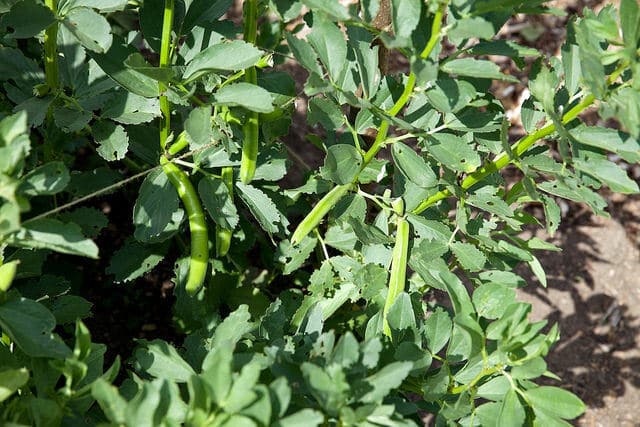 Beans are definitely one of the best plants for vegetable gardens. They are easy to grow, they germinate fast and they produce heavily. They are perfect for both expert and beginner gardeners. Beans come in different sizes and colors. The most recommended beans varieties are Pinto beans and Garbanzo beans. They are fast growers and they don't require much care.
These are the best plants for vegetable gardens. These plants are easy to grow, delicious and most of all heavy producers. Whether you are a beginner or an expert gardener, you should have these plants in your garden. You will enjoy growing them.