Vertical ladder planters are an excellent way to create extra space for gardening. They will multiply the space you allocate for gardening. Besides, with a bit of a care and dedication, they can be very ornamental too. They are definitely one of the best ways to overcome space issues and bring some nature to your place. Therefore, in this post, we will display different wonderful vertical ladder planter ideas that will inspire you to practice gardening even if you have a small space available.
1. Tiered Ladder Garden
If you have an old rustic ladder than you don't use anymore, don't throw it away. You could add some wooden planks to it and transform it into a vertical ladder plant. For a full guide, please visit this site.
2. Ladder Vertical Garden
Have you ever wanted to add some nature to your front door area but you couldn't because you lack space? well, now you have a solution to your problem. This DIY ladder vertical garden will allow you to bring nature to your front door area even if it is too small. All you need to do is to follow these instructions.
3. Verticle Step-Ladder Garden
I can"t say this is a decorative garden but I can definitely say it is an effective garden when you lack the appropriate space to garden.
4. DIY Cedar Ladder Planter
This ladder planter is perfect for urban gardens. It is small in size but it is big in capacity. It basically occupies no space yet it can hold many plants. Moreover, building this vertical planter does not require much time nor much effort. You could see the full guide here.
5. Ladder Trellis
This is an ideal idea if you are planning on growing vine plants and climbers. Building a ladder trellis will not give you the space you are seeking but will also provide your climbers and vines with the support they need to grow straight up. Check out TreeHugger for more information and details.
6. Ladder Herb Garden
This is definitely one of the most beautiful vertical ladder planters. It will certainly provide you with the space you wish to have for gardening. Besides, it is complicated to build. For instructions, please visit Moderate home.
7. DIY Ladder Planter
This idea is easy to duplicate. I encourage you to build this DIY ladder planter if you wish to create more gardening space. It is extremely effective. This ladder can hold up to 6 big containers. Thus, it will allow you to plant many plants vertically. Follow these steps and you will have it in no time.
8. Vintage DIY Ladder Planter
This vintage ladder planter is made of old drawers and a rustic ladder. It is very practical when you lack gardening space. In order to build this ladder planter, please follow these instructions.
9. Sawhorse Bookcase Plant Stand
This Sawhorse Bookcase Plant Stand is a great way to create gardening space and to adorn your patio, backyard or even balcony. It could also be used for indoor gardening as it is very beautiful. It is not difficult to build this attractive sawhorse bookcase plant stand. In fact, you will only need three tools. Here is the full tutorial for building this beautiful vertical ladder planter.
10. Outdoor Garden Decor
Rustic ladders are a perfect choice to create more space in your garden. They occupy a small space yet they provide a huge vertical space for you to use in gardening. Besides, they are made of wood thus they will harmonize well with nature.
11. Ladder Plant Stand
This is an amazing ladder plant that will improve your gardening experience and make it more enjoyable. As you can see in the above picture, it barely occupies any space but it provides a proper vertical space that you could use to plant lots of veggies and herbs. You could easily build it by following these instructions.
12. Old Ladder Plant Holder
This is a creative way to recycle your older ladder and transform it into a beautiful vertical plant holder. Although it does not give you enough space to plant fruits and vegetables, it remains a good choice to plant herbs. Besides, this idea is totally off the grid. If you are interested in getting thus vertical plant holder, follow this guide.
13. Planter Box Ladder
This is a perfect idea if you want to create a gardening space in your Patio. This ladder planter will not only give you the space you need for gardening but it will also embellish your patio. Building it is not very difficult as long as you follow these instructions carefully.
14. DIY Ladder Made from Branches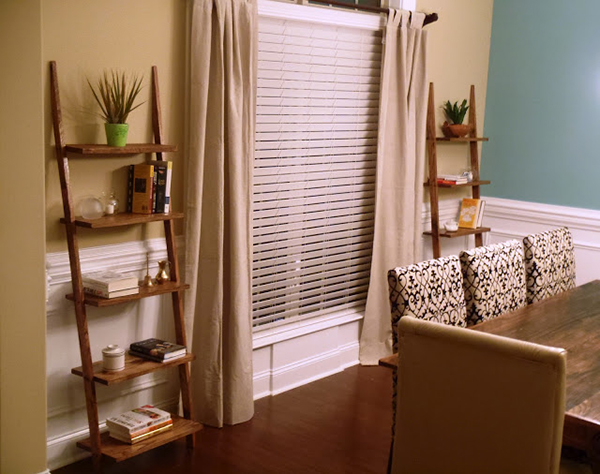 This is definitely a very creative wonderful ladder planter. It is also very ornamental. It is true that you can't plant a lot of plants using this planter but the best thing is that it will beautifully adorn your place. It is fit for both indoor and outdoor uses.
For indoor gardening, kitchens are the best locations to place this remarkable ladder planter. However, when it comes to outdoor gardening, you could place wherever you want.
The full guide for building this amazing ladder planter is available at Ashbee Designs.
15. Upcycled Ladder Planter
This is a unique way to both decorate your place and create a vertical gardening space. This hung ladder is absolutely ravishing and attractive. You could use it for growing herbs and flowers. It is more decorative than effective but it is absolutely worth trying. Check out this detailed tutorial if you are interested in getting this ladder planter.
16.  Tiered Flower Planter
This could be the cheapest ladder planter. It costs around 10 bucks. It is perfect for growing flowers and herbs. If you want to learn how to build it, please visit AnaWhite.com.
17. Vertical Ladder Vegetable Garden
We saved the best for the last. This ladder planter, besides being beautiful and appealing, it is the most effective one. It creates a big enough space to plant whatever you want to plant in it. This ladder planter can be easily built following these steps.
These are the most wonderful vertical ladder planter ideas. I truly hope these ideas have inspired you to build a ladder planter that will allow you to have a unqiue garden. Don't forget to share our posts with your friends, we will be very grateful. Thank you! enjoy gardening!